Some people like to keep their memories in a diary. When you're working in Jira, you don't need to note anything. Your activities are fixed in issue history by default, but only on the issue level. So you can't get it together and organize those data according to your needs. This article will overview add-ons from the Atlassian Marketplace to get a full history changelog.
What is the issue history in Jira?
Built-in functionality allows you to get changes on a single issue level. What data will you see?
Which user did changes

What update was made

When something was updated
For instance: 
James Crawley updated the Story point estimate August 12, 2022 at 3:47 PM
None → 5
Let's imagine someone changed the issue summary 5 days ago, now you don't know its name. How can you find it? Jira ticket/issue history is the first instance where you can look for past updates. If you know what the previous name of the issue was, you can look for its new name. If you know only sprint, or project, or date range, it will be not so easy to find it. You'll need to use JQL or other options to search the issue. 
What if you can monitor the general picture for the scope of tasks? In case you want to track updates for several tickets at once, you may try some Jira plugins for history log. Also, you can't make any report or export issue history with inbuilt features.
Read more about built-in issue history and how to view it.
If you want to customize your change history report, get comment logs, play with data or export it, keep on reading. 
Issue History for Jira app
Issue history for Jira from SaaSJet team allows you to get history for the list of issues. Here you can create the report you need. 
What are the main options you'll get?
Audit journal

– all issues' changes in one place

Visible changes for any

standard or custom field

 

Easy searching and filtering by

project, sprint, date range,

etc

Storage of

deleted tickets

Export

of issue history to Excel/CSV
Issue History Collector
Issue History Collector from Appfire helps to track issue stats for the defined users/statuses and monitor ticket age in real-time.
What are the main options you'll get?
User/status statistic for each ticket

Configurable report setups

with status history statistics

Comprehensive view by assignees (who and how long was working on the issue)

Gadget with a set of customizable reports
Description History Tab for Jira
As its name says Description History Tab for Jira from Devexperts tracks updates made to the description field.
What are the main options you'll get?
Confluence markup formatting to emphasize changes

Well-structured report with updates grouped to versions

Configurable time frames to get changes for specific user
Comment History Log for Jira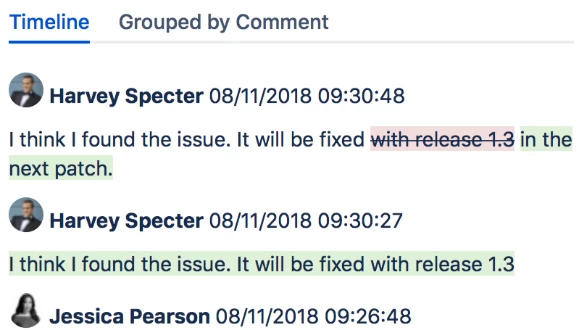 In Jira you can add comments to any ticket, but you can't see whether they were updated by some user. If you need to monitor only comment changelog, there is a specific plugin from codefortynine GmbH – Comment History Log for Jira.
What are the main options you'll get?
Delta display to review latest changes to comments

Grouped view to get change history for some particular comment

Capture the initial state of issue comments
Comparison of Jira plugins for history log
All Jira add-ons described above have different interfaces and functionality, but all of them are developed to monitor past changes. Depending on your needs, you can choose the best option for your business.
To simplify your decision a bit, we've prepared a comparison table.
Takeaway
Tracking issue history helps you to get an audit of your past activities in Jira. Built-in option allows you to get changes on a single issue level. For more flexibility, check out Jira plugins. You can try one or another, depending on your requirements. Most of them have free trials, so choose the best match for your team or business.